The first week after the baby is born is all about recovery and settling in. Whether this is your first baby or you've been down this road before – this is a special, hectic, messy time!
Today (or tonight, really) my newborn will be turning 1 week-old, so here's how my first week went.
After the night of my delivery, I spent two additional nights in the hospital. As much as I wanted to get back to my own home, own shower, and own food, I know how valuable this time is – round the clock professional care for myself and my baby? Yes, please! My priority was for my husband and I to get some sleep while we had all this extra help, so we let the baby go to the nursery in between feedings each night. This also works out well for the hospital staff as they have numerous checks and vaccinations to complete, etc – that they would schedule during the same time.
Another important goal during the hospital stay is to help your body heal – I knew that once I got home I would be moving around so much more (chasing after a 2 year-old as well) that my bleeding and pain/discomfort would increase – and it did. So during the time at the hospital its was important to rest, get into a care routine where the peri-bottle and ice packs became my best friends, and stock up on disposable undies to use later!
Lastly – I took advantage of the lactation specialist during my stay. I had nursed my son for 9 months, and my goal is to do at least the same for my daughter. Even though I had nursed for such a long time (and it wasn't that long ago) I still found it extremely helpful to hear from the specialist. Reminders on how to latch, different position options, how to tell if she's feeding correctly, etc. All extremely helpful. Since most babies lose weight in their first couple days of birth (especially exclusively breastfed babies) if you are breastfeeding you are going to want to feel confident that your baby is getting enough to eat. Proper form also reduces pain and complications for the mother and helps keep your supply up. The baby is the best pump for you and if she feeds correctly your supply will be plentiful! So my main job after returning home was to establish a good feeding "routine" (essentially feeding on demand at this point, sometimes she would be hungry after 30mins, sometimes 3hrs) and to make sure she was gaining back the weight she lost. We have a small baby scale we purchased for my son (you can see it was from Babies R'Us, still so upset they are gone because it was so convenient to be able to run out and get whatever little thing we needed right away) and this is great to eliminate any question on if she's gaining weight or not.
Fortunately, we've had a productive week and she is well over her original birth weight. The general guidance is that most babies should regain any lost weight by days 10-14 of life, and most babies lose 5-10% of their birth weight in the first 5 days or so of life (breastfed babies will typically at the higher end of this range).
What worked for me is to offer the breast anytime she woke or was fussy. If she didn't take it – then I would look for another source for her crying or discomfort, but 90% of the time, she's hungry! This is really a learning from my experience with my first-born. With him I tended to think 'he just finished eating 30mins ago, he couldn't possibly be hungry' – well I was wrong, the poor kid was probably hungry all the time! Especially early on – they do a lot of cluster feeding, and also nurse to soothe themselves, so expect to spend a lot of time nursing!
This week your baby will also have their first Well-Baby visit – the first of many visits in the first year of baby's life. There are numerous things to check and discuss at this visit:
Measure baby's weight, length and head circumference – here's a good reference on newborn averages
Check how baby's umbilical cord and circumcision (as applicable) are healing
Check baby's heartbeat and breathing
Check baby's reflexes
Check baby's skin color looking for signs of jaundice
Check baby's genitals
Check baby's Fontanels (soft spots) and the shape of her head
You'll also discuss the how the baby is feeding and sleeping, and this is the best time and place to ask any and all questions you may have (there's no such thing as a stupid question when you have a newborn).
Given how much went on this week (its amazing how quickly your life can change!) there are also a couple things I didn't worry about this week –
My weight or getting my body back – this week, I didn't worry about my diet, other than wanting to make sure I was eating enough to help establish my milk supply. I didn't even think about exercise, as I wanted my body to heal. There is time for this in the weeks to come, but was not my priority this week.
Thank you notes and other 'To-do's'. With various baby gifts arriving the thank-you notes are on my list but will have to wait. Returning phone calls and emails or messages will also have to wait. This is a special time for our little family of four and its ok to be a little selfish.
One important reminder though – get that baby added to your insurance. This is one 'To-do' I checked off before leaving the hospital.
So, what did I feed my family this week? The first night we got home we dug into one of our Freezer Meals that I had prepared before baby arrived – what a lifesaver! We went for the turkey lasagna rolls, and this was dinner for mom, dad, and brother for our first two nights back – it was delicious, even though it looks a little messy. Timing worked out that we were actually all able to sit down and eat together too which my toddler loved, "we're all together" he said happily.
Otherwise I ate fruit, cereal, or Lactation Cookies (also from my Freezer Meals prep) for breakfasts, sandwiches for lunch (tuna sandwich with a small cappuccino shown below), and we even did a 'breakfast for dinner' night with a spinach omelette – quick to make and good to eat!
Looking forward to my Post-partum (PP) week 2 however, I do want to start getting back into my normal groove of planning a weekly menu of healthy nutritious meals for the family. Here's the plan:
I like to do Meatless Monday – but if you are following no meat on Friday's for Lent you could easily switch the days around to accommodate. I did not do a big prep session for this week, thats a little too ambitious for me for week 2. I plan to prep as I go during the week and fit it in between feedings, snuggling with the baby, etc. We'll see how that works out!
Since today is Monday, I've already started following this plan, the Low Carb Waffles (also from Freezer Meals prep) were delicious – like crave-worthy delicious.
Here's the recipe I'll be using for the Mushroom & Artichoke Fettuccine from DamnDelicious – it looks yummy and hearty which is perfect for a vegetarian meal!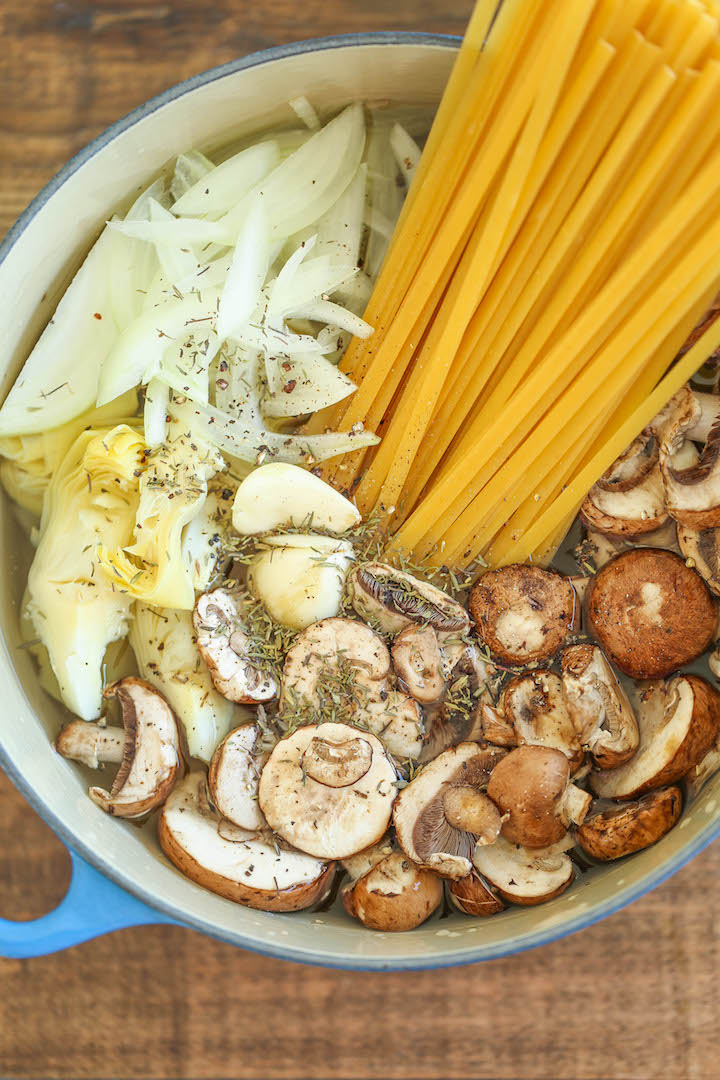 I can't wait to try it!